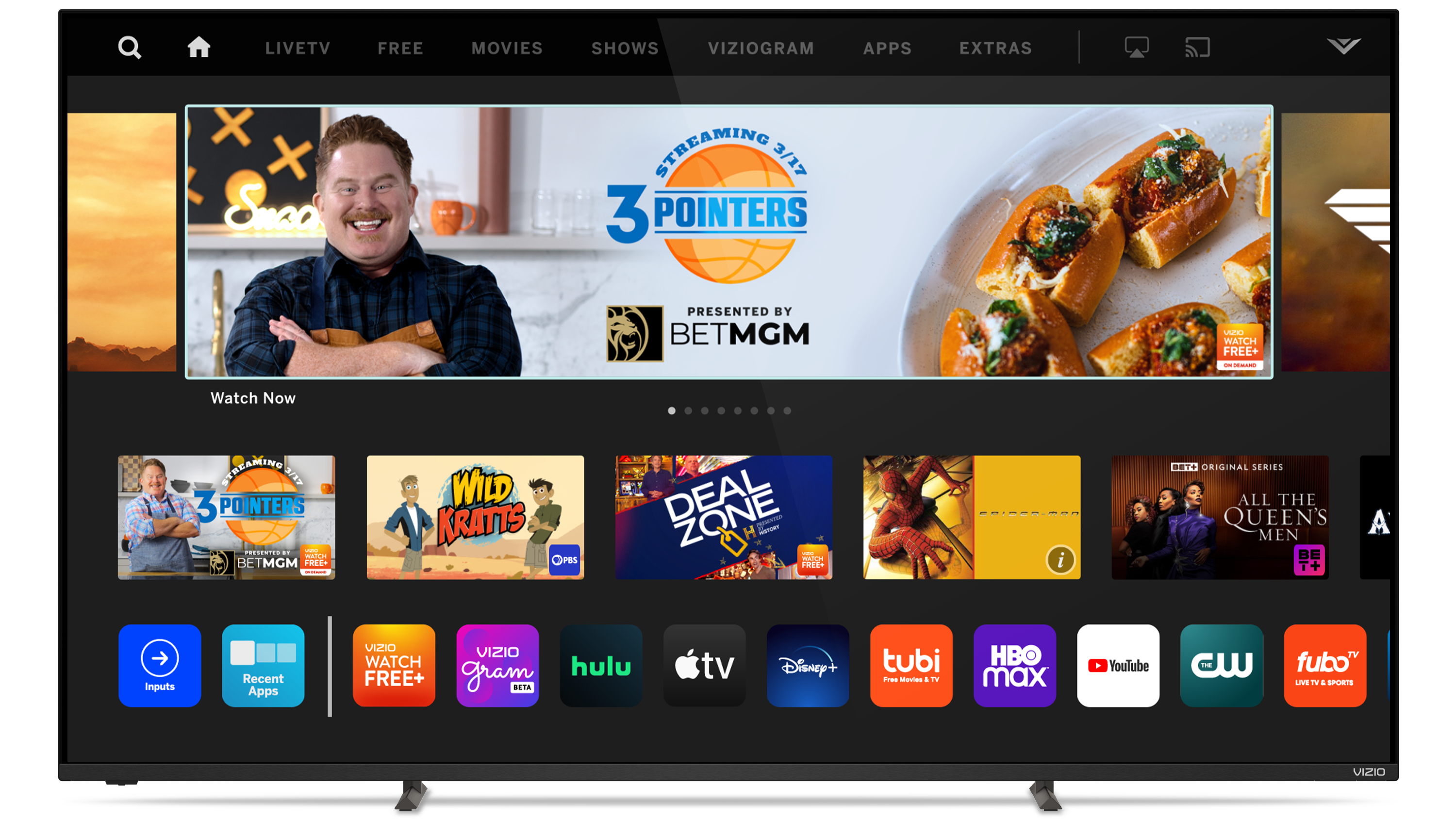 In the streaming age, brands are seeking creative and innovative ways to go beyond the traditional 30-second spot to reach their audience. In a content-rich environment, it's important for brands to expand beyond interruptive advertising and deliver experiences. As part of VIZIO's sponsorship product suite, we're constantly creating new opportunities for brands to engage their customers, and reach viewers across our smart TV environment.
The latest in this effort is our exclusive brand-integrated mid-form series 3 Pointers, in partnership with BetMGM. 3 Pointers builds on the momentum created by hundreds of VIZIO exclusives such as the Polaris free ad-supported streaming (FAST) TV channel and the @Home with Tori lifestyle reality show with Tori Spelling.
3 Pointers is a four-part limited series that celebrates the culture of college basketball's March Madness tournament with mid-form (under 10 minutes) videos focused on game-day recipes, beverages, and entertainment hacks designed to elevate the viewing experience.
Each episode features the BetMGM brand integration organically at the content level, resulting in an authentic, non-interruptive opportunity for BetMGM to connect with audiences holistically.
To ensure BetMGM gets this content in front of the right audience, we've added two additional features. First, the 3 Pointers series will be promoted on the VIZIO Home Page through both Hero autoplay banners with a branded content trailer, as well as Discover banner placements. What's more, we're using our ACR audience data technology to ensure these Home Screen placements appear on the screens of relevant viewers most likely to engage with the content.
And of course like all VIZIO Ads opportunities, it's 100% measurable through our Data Analytics capabilities, so participating brands can review the KPIs that matter most to them.
Combining the Home Screen experience with custom content solutions that enhance brands' presence is a powerful way to cut through the clutter and reach audiences directly and efficiently.
Collaborating with brands directly on unique programming, from concept to completion, and presenting it in both a timely and targeted fashion, ultimately provides unparalleled value to both the brands involved and the viewers seeking content relevant to their preferences.
Branded content experiences are a natural extension of VIZIO's current sponsorship offering. To date, brand advertisers have seen great success presenting and sponsoring channels inside of WatchFree+, VIZIO's free streaming service. Similarly, many brands have sponsored seasonal content hubs on VIZIO's home screen experience. Producing bespoke branded entertainment experiences is the latest evolution in this product suite.
To learn more about how you can work with VIZIO on a custom-content experience of your own, select the "Get in touch" button below to connect with a VIZIO Ads representative.