VIZIO Ads today unveiled its latest advertising and promotional advancements and innovations now available to the media buying community during its 2023 IAB NewFront presentation.
Led by a special keynote by VIZIO Founder and CEO, William Wang, VIZIO executives showcased enhanced opportunities for consumers, brands and content providers. VIZIO's unique integrated hardware, software and data model presents many opportunities to reach audiences throughout their streaming journey.
Presentation highlights include:


The Home Screen Opportunity
The VIZIO Home Screen took center stage, offering new opportunities to create a meaningful dialogue with viewers. VIZIO executives provided a sneak peek into a re-imagined, immersive design that will deliver more intuitive, relevant and personalization features for millions of users. The enhanced design includes search and discovery and customizable advancements, and turns the world of entertainment into a digestible and user-friendly content discovery experience.
VIZIO has added several enhancements for media and entertainment companies to promote content to millions of users including auto-play video, content deep links, trailers, storefront links, QR code activations and more.
VIZIO shared how brands in nearly every industry can establish a presence on the Home Screen. VIZIO has added several sponsorship opportunities including thematic hubs, custom carousels, programming sponsorships and timely activations.
VIZIO Ads introduced its new Branded Content Studio (VBCS) during the event. This new business unit was created to bring fresh, exclusive programming to viewers by connecting brands with content producers to develop a slate of data-informed programming across a variety of formats.
Innovative Ad Solutions
VIZIO's owned and operated WatchFree+ streaming service provides advertisers with a powerful opportunity to reach engaged audiences across 260+ free channels and 6,000+ on-demand movies and TV shows. Advertisers can leverage advanced ad solutions to optimize real-time campaigns, engage hard-to-reach audiences, control frequency, and much more.
Enhanced offerings include:
Data & Measurement
VIZIO's award-winning Inscape ACR data is helping to elevate consumer experiences, programming decisions and brand opportunities. With the most robust, representative, and reliable source for smart TV data in America, Inscape also serves as foundational data truth for five out of the seven leading TV measurement currency companies.
"As this year's NewFront presentation clearly illustrated, VIZIO has transformed from a hardware company to an integrated platform delivering best-in-class experiences for viewers, programmers, and brands alike," said Adam Bergman, Group VP of Advertising and Data Sales. "As the TV industry evolves, VIZIO will continue to transform with it, bringing all of our stakeholders along to enjoy the opportunities this exciting landscape has to offer."
For more details about the information presented during the NewFront event, including video clips and links to additional resources, visit VIZIO's 2023 NewFront Hub.
Watch Now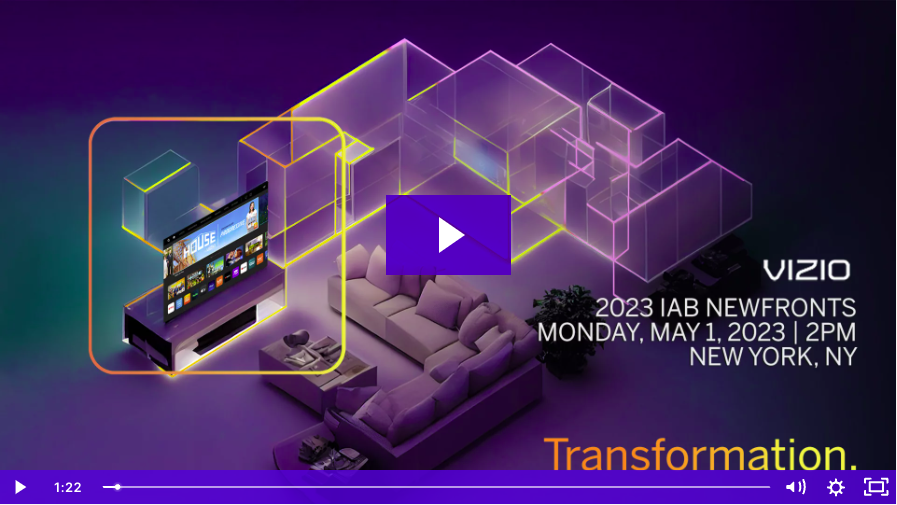 Photo Gallery