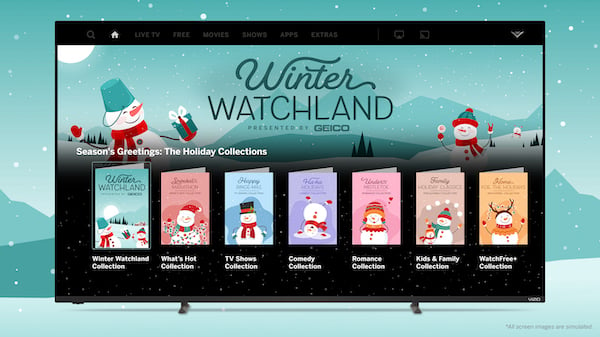 The biggest responsibility we have at VIZIO Ads is to provide opportunities for brands to reach viewers.
One of the paths we take to accomplish that is through serving up curated programming across SmartCast and free streaming content available on VIZIO's WatchFree+. These hubs offer brands an unparalleled opportunity to reach viewers on the Home Screen and BEFORE they enter into a streaming environment.
That's what makes the introduction of our Winter Watchland programming lineup so interesting. Winter Watchland combines the right content, at the right time, in the right format to create a "perfect storm" for advertisers hoping to leverage the powerful benefits of the smart TV age.
For starters, Winter Watchland offers a collection of movies, shows, music, and free on-demand exclusives across various streaming platforms aggregated into themed packages to provide a binge-worthy holiday entertainment experience. What's more, this programming is displayed through curated banners on the VIZIO Home Screen for easy discovery and navigation. Finally, this all takes place during the busy holiday shopping season, a time when many brands want to reach audiences the most.
Advertisers looking to take advantage of these tentpole activations can easily sponsor components of the Winter Watchland lineup as well as sponsor the entire curated collection to gain a powerful presence on the VIZIO Home Screen. This offers an opportunity to capture audiences as they're browsing through the selections offered.
The Winter Watchland collection includes:
Snowed-In Marathon — What's Hot:

A collection of new movies and series from multiple streaming services, such as

Spirited

from Apple TV+, season 2 of

White Lotus

from HBO Max, and new trending movies like

Nope

and

Tar

.

Happy Binge-Mas — TV Shows:

New and classic TV shows primed for just-one-more-episode lean-back viewing like HBO's

Game of Thrones, Parks and Recreation, 30 Rock

and

This Is Us.

Ha-Ha Holidays — Comedy Collection:

Classic Christmas laughs such as

Elf, Office Christmas Party,

and

Scrooged.

Under The Mistletoe — Romance Collection:

A couples fireside wish list, including

The Holiday, When Harry Met Sally, Four Christmases

, and many others.

Holiday Classics — Kids & Family: Nostalgic favorites the whole family will enjoy, such as A Christmas Story, A Charlie Brown Christmas, The Nightmare Before Christmas, Miracle on 34th Street and Home Alone.

VIZIO Fireplace Channel

– Grab that hot chocolate and celebrate the most wonderful time of the year with the ambiance of four distinct crackling fireplace scenes.
To learn more about how you can become an exclusive sponsor for any of these curated Winter Watchland Home Screen experiences, click the "Get In Touch" button below to connect with a member of the VIZIO Ads team.