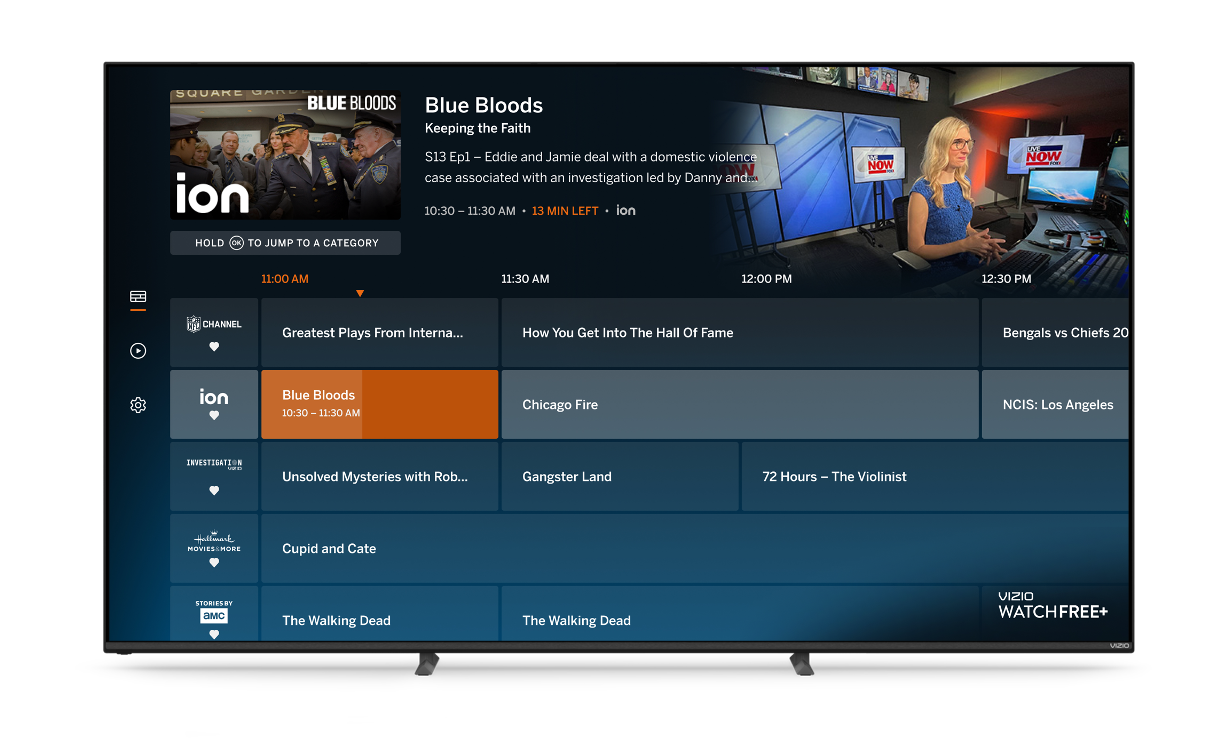 With more than 260 free ad-supported channels, and more than 6,000 titles available for on-demand viewing, our WatchFree+ service has become the second most-watched free ad-supported streaming app available on the VIZIO platform.
So to support both the service and our loyal viewers, we've introduced several new interactive features to help connect viewers with the content they've come to love and expect.
The most recent is an upgraded design that delivers not only a new look and feel, but also a new electronic program guide, faster and easier navigation options, and personalization features to deliver a true cable-like experience to CTV programming.
For instance, the WatchFree+ guide now presents the program schedule in 30-minute intervals so viewers can more easily explore the vast WatchFree+ library in a familiar format. This new guide also allows brands, studios and networks to promote contextually relevant content and ads seamlessly within the programming guide, furthering VIZIO's best-in-class search and discovery experience. As customers continue to search for content they love, this in-guide promotion feature furthers the personalization of WatchFree+. And... advertisers can include ads related to the subject of the channel that appear within the guide.
Additional updates include:
In-Line Content Descriptions for movie and show details
Picture-in-Picture viewing while browsing WatchFree+ channels
Jump to a Category through a long press on the "OK" button while in the EPG guide to get a list of channel genres, making navigation easier
Easy Access to On-Demand Titles directly from the program guide
This ongoing commitment to innovation creates a more immersive, engaging, and lasting experience that ultimately benefits not only viewers but advertisers as well by keeping audiences engaged with both quality content and an elegant interface.
Other recent updates to achieve the same goal include:
My Watchlist: allowing viewers to add their favorite TV shows and movies from different streaming services into one central location on VIZIO SmartCast TVs, along with recommendations based on viewer activity.
VIZIO Account: a payment and subscription management solution that provides a seamless way for millions of VIZIO Smart TV users to subscribe to their favorite streaming services and take advantage of special offers — all in one place.
We also recently pushed out an auto-update to all 2020 - 2022 models that adds several marquee features of our 2023 collection to these existing devices, including advanced gaming features, DolbyVision Bright Mode, Bluetooth headphone support, and upgrades to the menu interface and remote control.
Taken together, these are far more than mere cosmetic enhancements. Investments like these in the VIZIO user experience elevate both the functionality and enjoyment of the platform for users, leading to more and longer engagement, which increases the value of the platform for our partners.
The smart TV has become the centerpiece of the home. As such, we feel it is important to keep our TVs updated with the latest technology, features, and capabilities so users can continue to rely on them for all their needs, entertainment and otherwise.