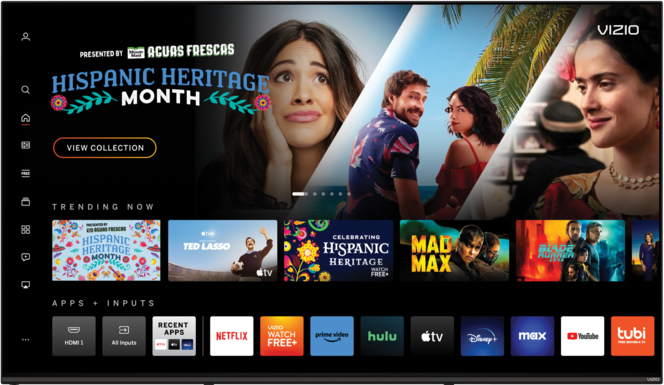 Hispanic Heritage Month is an opportunity to recognize and celebrate the contributions, achievements, and diverse culture and history of the American Hispanic and Latino community.
That's why VIZIO is marking this year's Hispanic Heritage Month with an extensive programming lineup designed for a multicultural audience, showcasing the full range and diversity of our content capabilities that are sure to appeal to both viewers and advertisers alike.
This curated collection of films, documentaries, and TV shows will run from September 15 to October 15, all promoted on the VIZIO Home Screen with unique brand integration opportunities throughout.
The Hispanic Heritage Month collection features
ViX — A newly added Spanish-language streaming app with hundreds of hours of free programming celebrating Hispanic and Latin history, culture and achievements in entertainment
"Celebrating Hispanic Heritage" — A VIZIO-curated pop-up channel featuring cooking shows family movies, comedy specials, and music-inspired movies
VIZIO Hispanic Heritage Month Carousel — The WatchFree+ On Demand experience offers over 165 hours of English and Spanish language titles with the best in film, food, sports, music and reality.
In addition to providing hours of premium entertainment for interested viewers, VIZIO's Hispanic Heritage Month programming collection provides brands with the opportunity to participate as a "presented by" sponsor. This includes prominent brand mention and imagery directly on the VIZIO Home Screen — our most powerful branding real estate.
This year, Minute Maid is the presenting sponsor for the Hispanic Heritage Month Collection, promoting its Aguas Frescas beverage line. This sponsorship includes a dedicated feature in our main "Hero" carousel at the very top of the Home Screen, carousel and a unique point of purchase integrated video execution at a major national retailer.
Content-related brand integrations like this not only help create brand affinity with viewers, but also give brands the ability to achieve mass reach in an otherwise fragmented streaming environment, all while recognizing an important cultural event.
To learn more about how your brand can participate in content collections or any of VIZIO's Home Screen sponsorship opportunities, click the "Get in touch" button below to speak with a VIZIO Ads representative.