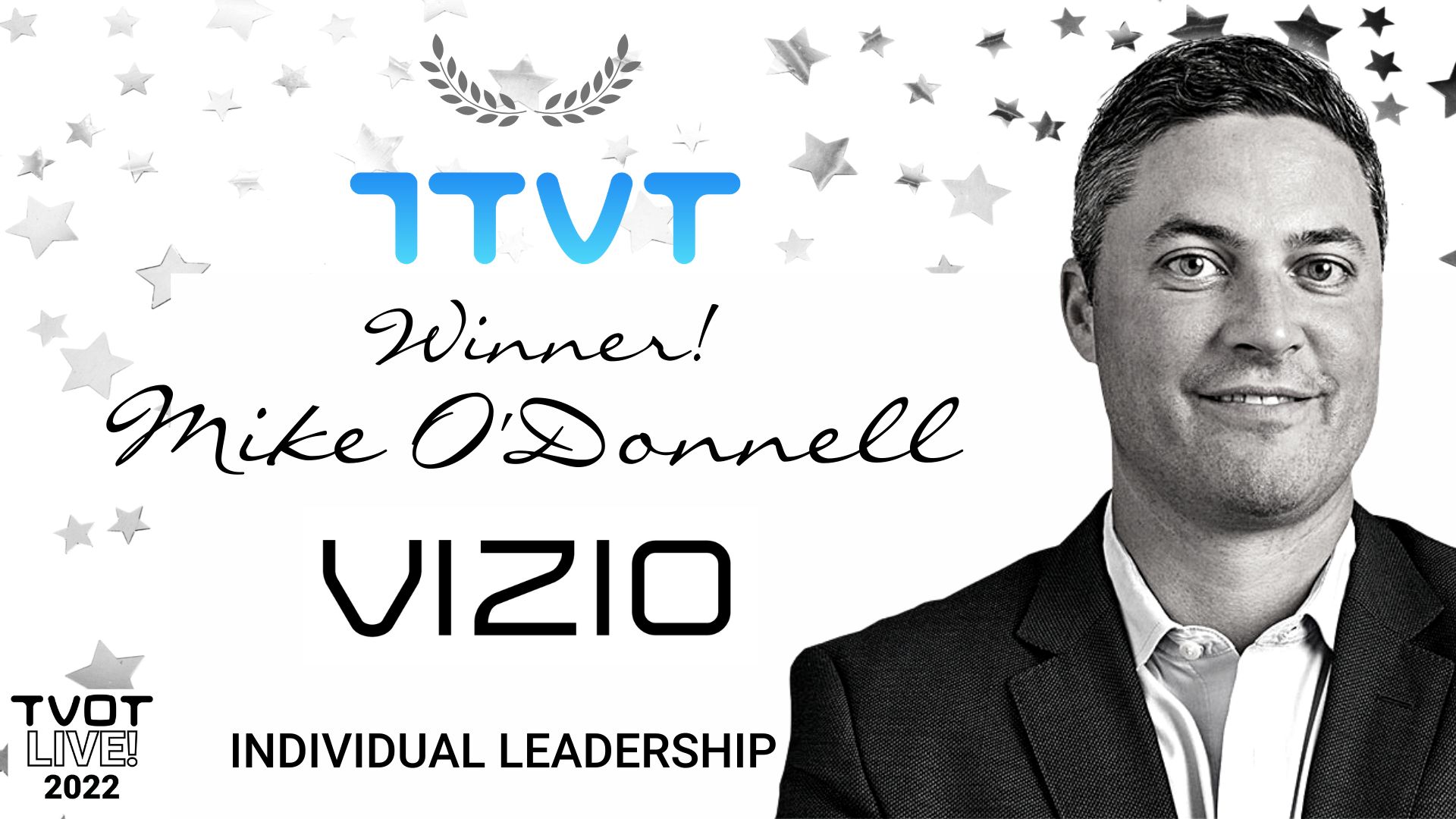 VIZIO services and executives were honored with three awards at the recent 18th Annual Awards for Leadership in Interactive and Multiplatform Television Awards, held during the TVOT Live! 2022 event Jan 10-13.
Taking an award for Individual Leadership was VIZIO Chief Revenue Officer for the Platform Business, Mike O'Donnell. The award recognized Mike's contributions to the interactive/multiplatform TV industry over the past year specifically for his leadership of VIZIO Ads, SmartCast, and Inscape.
In his first year in this role, O'Donnell oversaw VIZIO's exploding direct-to-device advertising business (which reported gross profit growth of 88% to $57.3 million in Q3, 2021), transformed the streaming ecosystem on VIZIO's SmartCast platform by launching over 260 free channels via the reimagined WatchFree+ free streaming service, and was instrumental in striking platform streaming deals with WarnerMedia, Discovery, Disney, Fubo, Peacock and NBCUniversal, Apple, YouTubeTV and dozens more.
These achievements played no small role in the other awards VIZIO received at the event, including:
- Achievement in Advanced Advertising for demonstrating the greatest achievement in advanced advertising.
- Achievement in Streaming/OTT/CTV for demonstrating the greatest achievement in streaming, OTT or connected TV.
The Advanced Advertising award recognizes the three products VIZIO Ads launched in the last year that drive real business outcomes, to optimize campaign planning, targeting, and measurement:
- Household Connect enables advertisers to target consumers on other devices based on what is viewed on VIZIO smart TVs.
-
Universal Frequency Control

sets limits on how often an ad is delivered via VIZIO Ads' CTV offering, and with in-flight optimization, brands can ensure they are reaching the device an optimal amount of times per day, week, or month.
-
True Incremental Reach

helps measure net new audiences reached from advertising on our platform, when compared to other formats such as linear and VOD.

The Streaming/OTT/CTV award recognizes VIZIO's advancements of its SmartCast™ platform, the operating system that powers every VIZIO Smart TV. In the last year, SmartCast introduced:

- Features, an exclusive content offering that leverages VIZIO's first party, opted-in viewership data and homescreen targeting capabilities to deliver personalized content experiences to audiences via free ad-supported channels, movies, and shows across the VIZIO SmartCast® operating system.

- On Demand Titles added to WatchFree+, an AVOD service that makes much of the WatchFree+ programming available on-demand, with more than 4,000 free movies, TV shows, and VIZIO exclusives to SmartCast audiences from more than 17 content and studio partners totalling over 5,000 hours of on demand programming across all genres.

We're grateful for the honor and for TVOT's efforts to recognize all the leaders in this space.

Want to learn more about these and other VIZIO Ads services and capabilities? Select the "Get In Touch" button below to schedule a briefing.