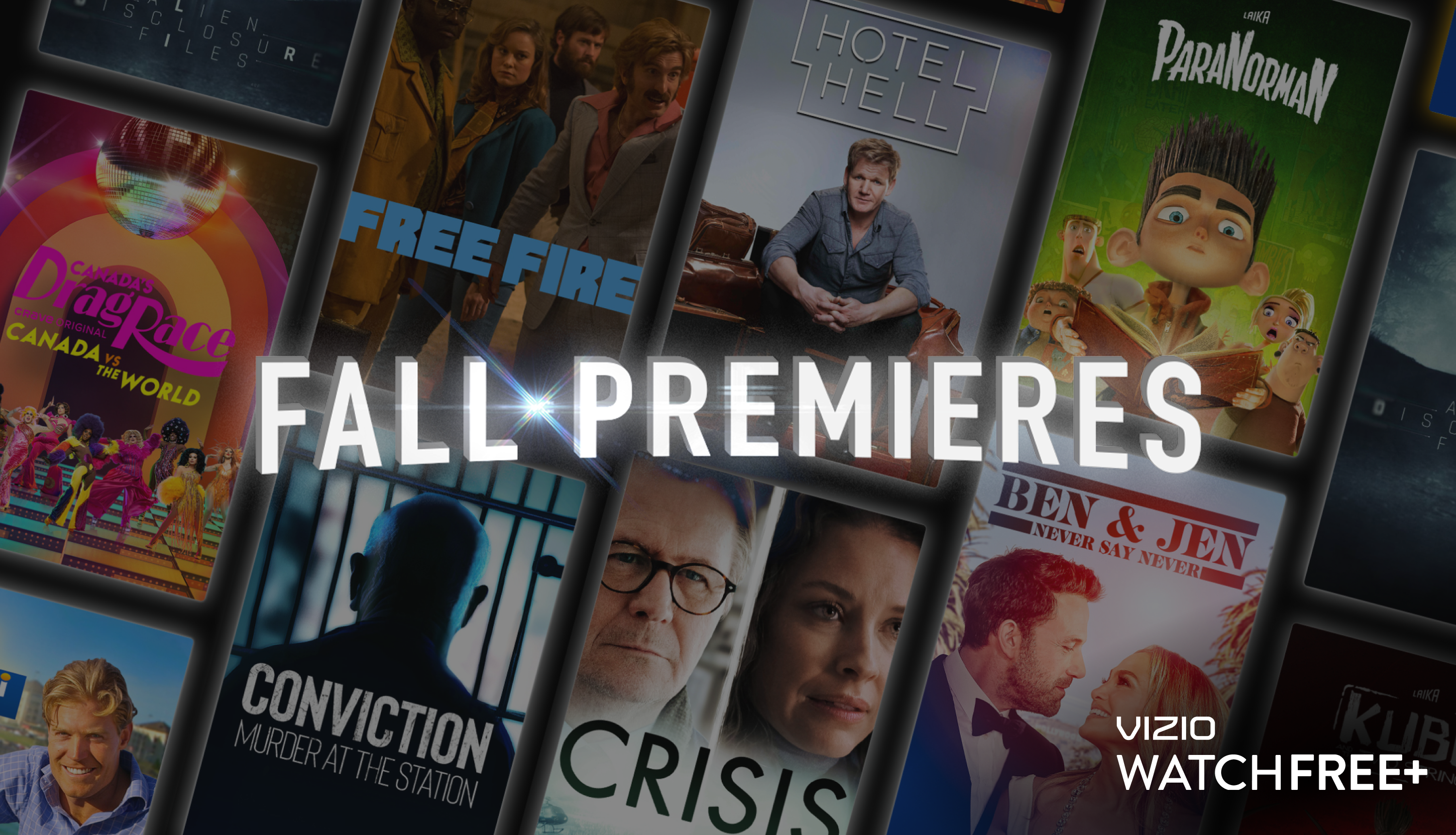 VIZIO today unveiled its Fall Premiere lineup, streaming over 70 new titles never before seen on WatchFree+, including exclusive TV series premieres, movies, and more.
Fall Premieres offers hundreds of hours of free entertainment featuring icons and the characters viewers know and love, like Gordon Ramsay, ParaNorman, Ben Affleck, Jennifer Lopez, Tim McGraw and Faith Hill.
WatchFree+ is VIZIO's free streaming service offering an ever-expanding library with hundreds of free channels and thousands of on-demand titles spanning movies, news, crime, reality, sports, music, kids/family, and more.
"We're excited for audiences to stream over 70 on-demand titles, new to WatchFree+ for Fall Premieres," said Katherine Pond, Group Vice President of Platform Content and Partnerships of VIZIO. "Thanks to the collaboration with our content partners and our data-informed approach, this fresh programming slate delivers VIZIO users free access to all of the drama, reality, and action they've come to expect from traditional fall premieres."
See the full lineup below.
WATCHFREE+ ON-DEMAND
Fascinating Places
Firefighters in the Heart of Danger
Fishing Expedition Amazonia
Flying Rainbow
Fred & Rose West: The House of Horrors
Free Fire
Frontier Sumatra
Giant Sea Serpent, Meet the Myth
Girl Who Became Three Boys
Going To The Dogs
Great Adventurers
Greece! From the Mountains to the Shoreline & The Islands
Grey Seal, A Journey of Survival
Her Worst Nightmare
History's Most Haunted
Home At Last
Hotel Hell
Island of the Hippos
James Bulger: The New Revelations
King of the Mountains, Golden Eagle
King of the Seas, Sea Eagle
Kubo and the Two Strings
Masai Mara: The Big Hunt
Mind Investigators
Mommy, My Killer
Mothers of the Bride
Murder on Millionaire's Mile
My Dad's On Death Row
My Social Network Stalker
New Kids in the Wild
ParaNorman
Paws Vs. Claws (first 5 episodes of the series)
River Jaws
Running Wild
Samurai Killer
Sherlock Holmes
Sumatra's Last Tigers
Swimming With Legends
That's My Pet (4 new episodes)
The Case
The Dyatlov Mystery
The Mind of Mark DeFriest
The Wildlife Orphanage
The Wine Guys: Grape Escapes
Tim McGraw & Faith Hill: Country Lovin'
Toxica
Weird Al: Never Off Beat
Wild Bear Rescue
World's Funniest Moments
Zoomix
VIZIO Curated Channels
Investigation
Cocaine Captains
Conviction: Murder at the Station
Dark Secret
Fred & Rose West: The House of Horrors
Girl Who Became Three Boys
James Bulger: The New Revelations
Mind Investigators
Mommy, My Killer
Murder on Millionaire's Mile
My Dad's On Death Row
My Social Network Stalker
Samurai Killer
The Case
The Dyatlov Mystery
Fork and Flight
Exotic Islands
Great Adventurers
Greece! From the Mountains to the Shoreline & The Islands
Hotel Hell
The Wine Guys: Grape Escapes
Free Movie Network
Crisis
Free Fire
Kubo and the Two Strings
ParaNorman
SciFi+
Alien Disclosure Files
Aliens Uncovered: ET or Man-Made
Aliens Uncovered: Origins
Aliens Uncovered: The Golden Record
History's Most Haunted