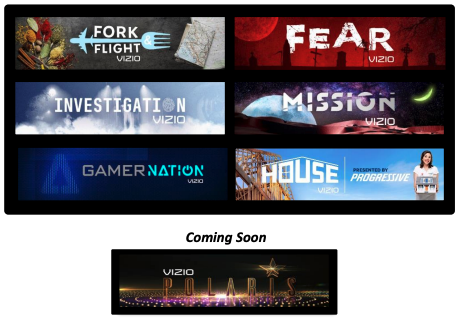 We recently introduced a number of new, custom-curated channels exclusive to the WatchFree+ streaming service, under the banner of our Features initiative first introduced during our 2021 NewFronts presentation.
We think the channels we've curated are pretty spectacular, and you can read all about them in the official press release available here.
It's also worth noting the important milestone these channels represent.
We've always aspired to be more than "just" a TV manufacturer. From the start, we focused on providing both the hardware and the software to offer viewers, advertisers, and content partners a more seamless, immersive TV experience.
We then added our re-imagined free streaming service, WatchFree+ to provide users with instant access to hundreds of free channels.
With Features, we're adding content curation to the mix. Taken together, VIZIO is offering an unprecedented end-to-end experience—the TV hardware, software, service, and now curated content.
This is a powerful combination made possible only by the integration of all components that benefits viewers, advertisers, and content providers alike.
Viewers
By owning the software that serves both the content and the ads, we're able to generate unique, first-party viewership data of what viewers are watching across services—linear, streaming, and more.
To date, that data has been used to show viewers the most relevant ads. With Features, we're now using it to curate the most relevant programming as well. The theme of each Features channel theme and programming selected for them was determined based on what viewers have shown the greatest interest in across millions of SmartCast devices.
Advertisers
Features are more than just channels added to a grid of other available WatchFree+ programming. We can not only highlight select Features channels on the SmartCast homepage but also prioritize which Features channels are placed there based on each viewer's history.
This offers a host of advanced advertising opportunities. Not only can brands place targeted video ads into the programming stream, but they can also sponsor an entire channel, with the naming rights and exposure that brings on the homepage, channel guide, and more.
Programmers
VIZIO is not producing new shows, but we are curating content from creators and networks into themed channels based on the most popular genres of content on SmartCast. Many are shows already available as standalone channels. Some include content you have never seen before. Others are special "pop-up" channels celebrating a tentpole event or holiday.
Including these shows in our Features channels provides creators with an additional touchpoint with WatchFree+ audiences. This expands reach, creates additional revenue streams, and generates new audiences.
As you can see, this is a win-win-win for the entire TV landscape. It's uniquely suited not just to the technology available today, but to the changing viewing habits these new capabilities create.
In today's TV climate, content isn't the problem, it's context. Knowing where to start is a challenge. The vastness of options viewers have available to them today can be paralyzing. It turns out that employing the classic TV strategy of packaging content that flows together and provides viewers with a reliable curated experience makes a lot of sense.