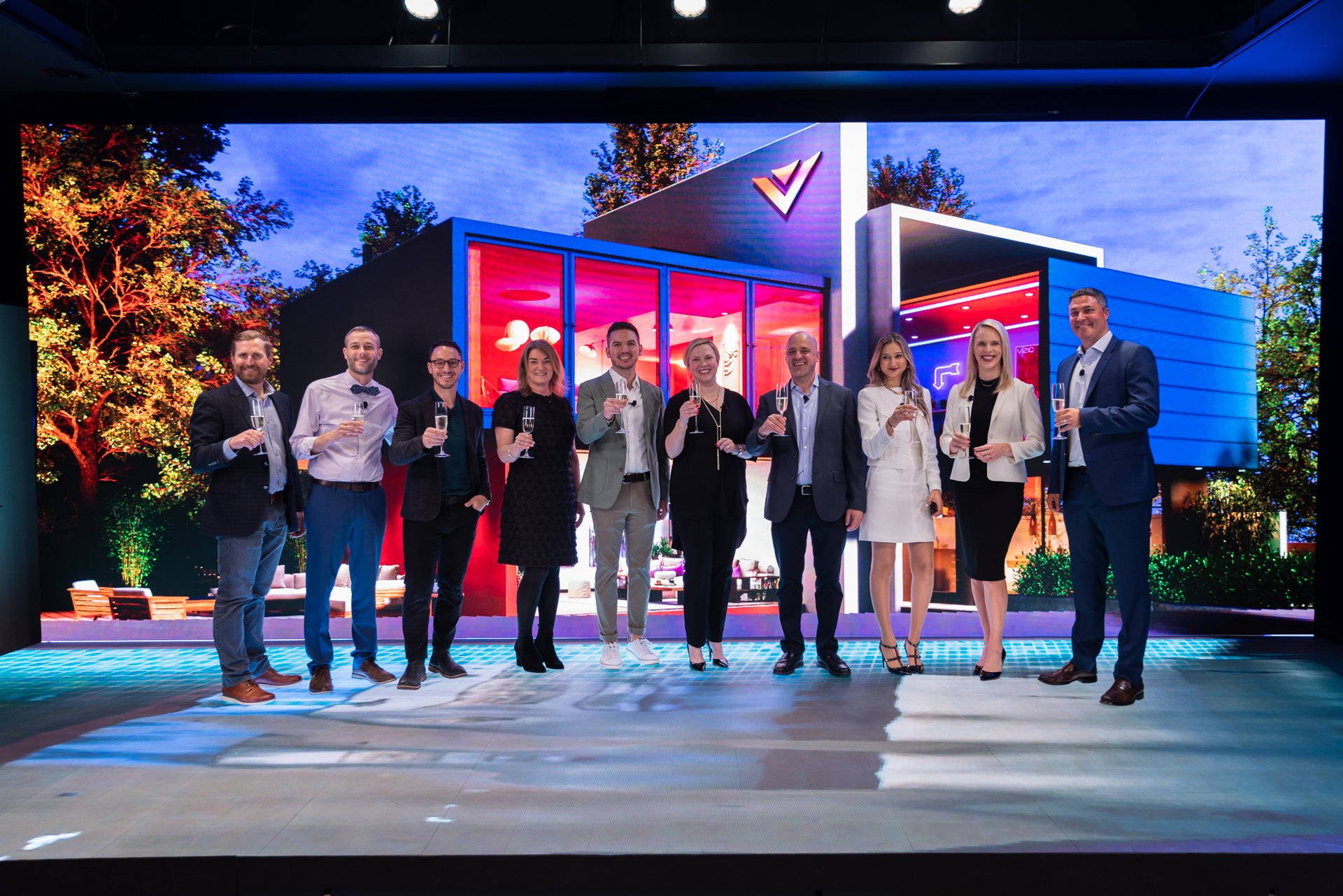 The VIZIO Ads team welcomed a horde of partners, advertisers, and content providers at its IAB NewFronts presentation to showcase a host of new and innovative ways brands can connect with the VIZIO audience.
The event took place at the newly opened Moonlight Studios in New York, featuring a futuristic showroom and "extended reality" studio with LED columns, walls and an XR stage that brought attendees into elements of the production for an immersive VIZIO experience.
Hosted by Chief Revenue Officer Mike O'Donnell and VP of National Ad Sales Adam Bergman, the NewFront event presented the latest advancements in VIZIO's integrated hardware and software model, industry-leading ACR data, viewing experiences for consumers and direct-to-device offering for advertisers.
Here's a quick video summary:
Highlights included:
A Toast!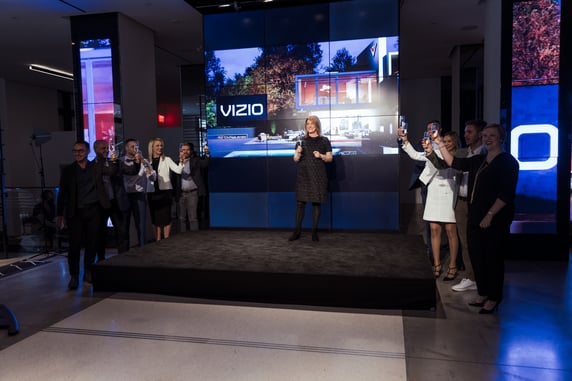 The VIZIO team led attendees in a champagne toast to celebrate VIZIO's 20-year anniversary, a milestone marking the progress VIZIO has made since first revolutionizing the TV industry.
"All of us in the room are pushing the industry forward, not settling for the status quo— and creating ad experiences that are better for the millions of people who turn on a VIZIO Smart TV every day," said Allison Clarke who led the toast.
Platform and Content Showcase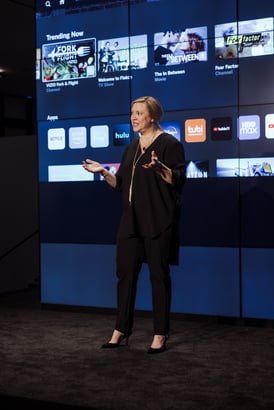 One of the biggest advantages of the VIZIO platform is its unique integration of hardware, software, and data all under one roof. From the VIZIO Home Screen where the viewing journey begins for millions of viewers, to VIZIO's WatchFree+ ad-supported live and on-demand TV service, VIZIO has created a unique and powerful environment that allows advertisers to connect with audiences.
This audience includes hard-to-reach Millennials and Gen Z's, all the way to Gen Xers and Baby Boomers, kids & families, multicultural audiences, sports fans, gamers, cinephiles and more.
VIZIO Features doubles down on this integration through curated content channels like hip-hop culture focused Polaris, Fork & Flight for food and travel lovers, KickBack for action and adventure lovers, and Love Always for all the rom-com folks and more. These curated channels give sponsors a presence on the VIZIO home screen, all informed and influenced by opt-in viewership data.
"Features is a markedly different approach to content programming and it has a distinct value proposition for both viewers and advertisers," said VP of Engagement, Steve DeMain. "Viewers get more of the content they love. Advertisers get the opportunity to participate in well-lit, brand-safe video inventory that is unavailable anywhere else."
The Data Behind Our Data-Driven Approach
Data is the foundation of everything we do—from making programming and content curation decisions, to Home Screen feature placement, to advertising strategy. Data fuels innovation and measurement on our platform and across the industry.
At VIZIO, that data stems from our glass-level ACR service Inscape.
"Using data from 20 million Smart TVs — given by express consent in a double opt-in process— Inscape has cataloged every frame of every show and every ad that appears on our TVs," said Senior Director of Data Strategy Ken Norcross. "It is quite literally a stream of information about what consumers are paying attention to, right this very moment and throughout their journey."
To supercharge this data for brands and partners, VIZIO also introduced a new Analytics product and team, which includes a proprietary dashboard that advertisers can use to understand the incremental audience reach and frequency that VIZIO Ads can generate beyond linear TV spend. The dashboard helps advertisers track and optimize campaigns from start to finish, including pre-campaign planning work, targeting segments, budget allocation, measurement, and reporting.
Advertising Innovation
In today's TV landscape, ads are no longer simply videos that play between programming segments. They are Home Screen features, preview videos, and other new and innovative ways to connect with audiences. VP of Product Management Oz Lang showcased the latest advancements in VIZIO's direct-to-device business, including innovative products like VIZIO's cross-device Household Connect offering and VIZIO's solution for bridging linear and digital viewing experiences with the newly introduced Jump View offering.
Nicole Cannizzaro, Addressable Manager of Network Partnerships, then introduced VIZIO ENACT— a proprietary suite of advertising technologies built to accelerate the adoption of directed, addressable advertising across all forms of television.
Get On The Bus
Throughout the week, members of the VIZIO team invited partners across the TV ecosystem to a VIP experience on an outfitted VIZIO bus highlighting the latest VIZIO TV and Sound Bar innovations with the benefits of VIZIO's integrated hardware and software approach on full display.
Overall, it was quite a week. If you could not make it this year, click below to access the full presentation for yourself. We look forward to speaking with you soon.
Click here for the full presentation.