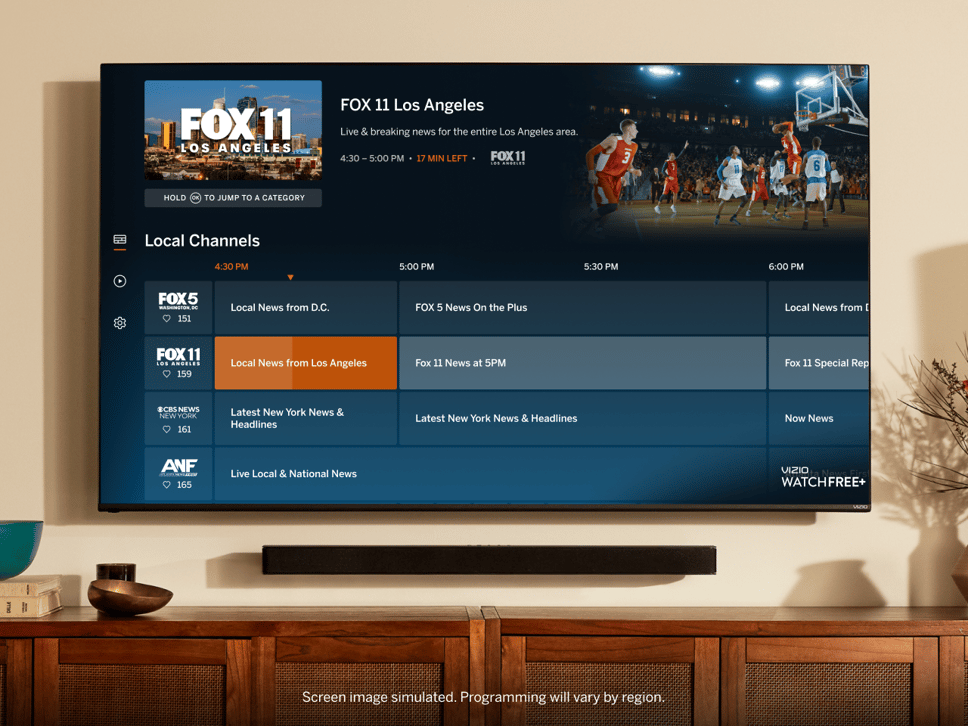 WatchFree+ now has a new local news category, adding 20 new channels focused on regional news, weather, sports and more.
VIZIO smart TV owners can now tune into local news coverage from FOX and Gray Television across top designated market areas (DMAs) including Los Angeles, Philadelphia, Dallas-Fort Worth, Atlanta, and Washington DC.
Recognizing that consumers are turning to streaming platforms for local news and entertainment more than ever before, VIZIO strategically selected local markets that are most representative of its viewers.
Just ahead of off-year gubernatorial and state legislative elections, millions of WatchFree+ fans can stay informed with relevant and timely election coverage, as well as community news, weather and more where it matters most and without a cable subscription.
The WatchFree+ programming guide provides a complete list of free channels available in the new local channel category, including:
FOX channels:
WAGA (FOX 5 - Atlanta) - Ch. 945
WTTG (FOX 5 - Washington DC) - Ch. 946
WJBK (FOX 2 - Detroit) - Ch. 947
KDFW (FOX 4 - Dallas) - Ch. 948
WTVT (FOX 13 - Tampa Bay) - Ch. 949
KTVU (FOX 2 - San Francisco) - Ch. 950
WTXF (FOX 29 - Philadelphia) - Ch. 951
WOFL (FOX 35 Orlando) - Ch. 952
KCPQ (FOX 13 Seattle) - Ch. 953
KTTV (FOX 11 - Los Angeles) - Ch. 955
Gray Television channels:
WANF Atlanta News First (Independent - Atlanta) - Ch. 961
KTVK/KPHO Arizona's Family (CBS 5 - Phoenix) - Ch. 962
WOIO Cleveland 19 News (CBS 19 - Cleveland/Akron) - Ch. 963
WBTV News (CBS 3 - Charlotte) - Ch. 964
KPTV (FOX 12 - Portland) - Ch. 965
KMOV4 News (CBS 4 - St. Louis) - Ch. 966
WSMV4 News (CBS 4 - Nashville) - Ch. 967
KCTV5 News (CBS 5 - Kansas City) - Ch. 968
WFSB Eyewitness News 3 (CBS 3 - Hartford/New Haven) - Ch. 969
WXIX-TV (FOX19 Now - Cincinnati) - Ch. 970
Existing local channels include:
CBS News Los Angeles - Ch. 160

CBS News New York - Ch. 161

News 12 New York - Ch. 162
"We are thrilled to partner with VIZIO in launching these local channels on WatchFree+," said Pat LaPlatney, President & Co-CEO of Gray Television. "From Atlanta to Washington DC to Tampa Bay, viewers can now stay connected to their local news, weather, and sports, all with the convenience of their VIZIO Smart TV."
The new channels complement a wide range of existing WatchFree+ news options, including but not limited to TD Ameritrade Network, Bloomberg Originals, CBC News, CBS News, Cheddar News, CNN RePlay, FOX Weather, LiveNOW from FOX, NBC News NOW, Reuters, Scripps News, The Hill, USA TODAY, WeatherNation, Yahoo Finance.
"VIZIO's expansion of local market news in WatchFree+ marks an exciting milestone for smart TV owners across the United States," said Katherine Pond, Group Vice President, Platform Content & Partnership at VIZIO. "Through our collaboration with Gray Television and FOX, we make it possible for millions of users to stay connected with their communities with relevant and timely content through our WatchFree+ streaming service."
To access local channels on WatchFree+, VIZIO smart TV owners can simply navigate to the WatchFree+ app on their devices, select local channels from the categories menu and choose the desired channel from the programming guide. Once selected, users can favorite the channel for seamless navigation and future viewing.
WatchFree+ is like cable TV, but streaming and free. With hundreds of channels and thousands of popular on-demand TV series and movies, there is something for everyone.