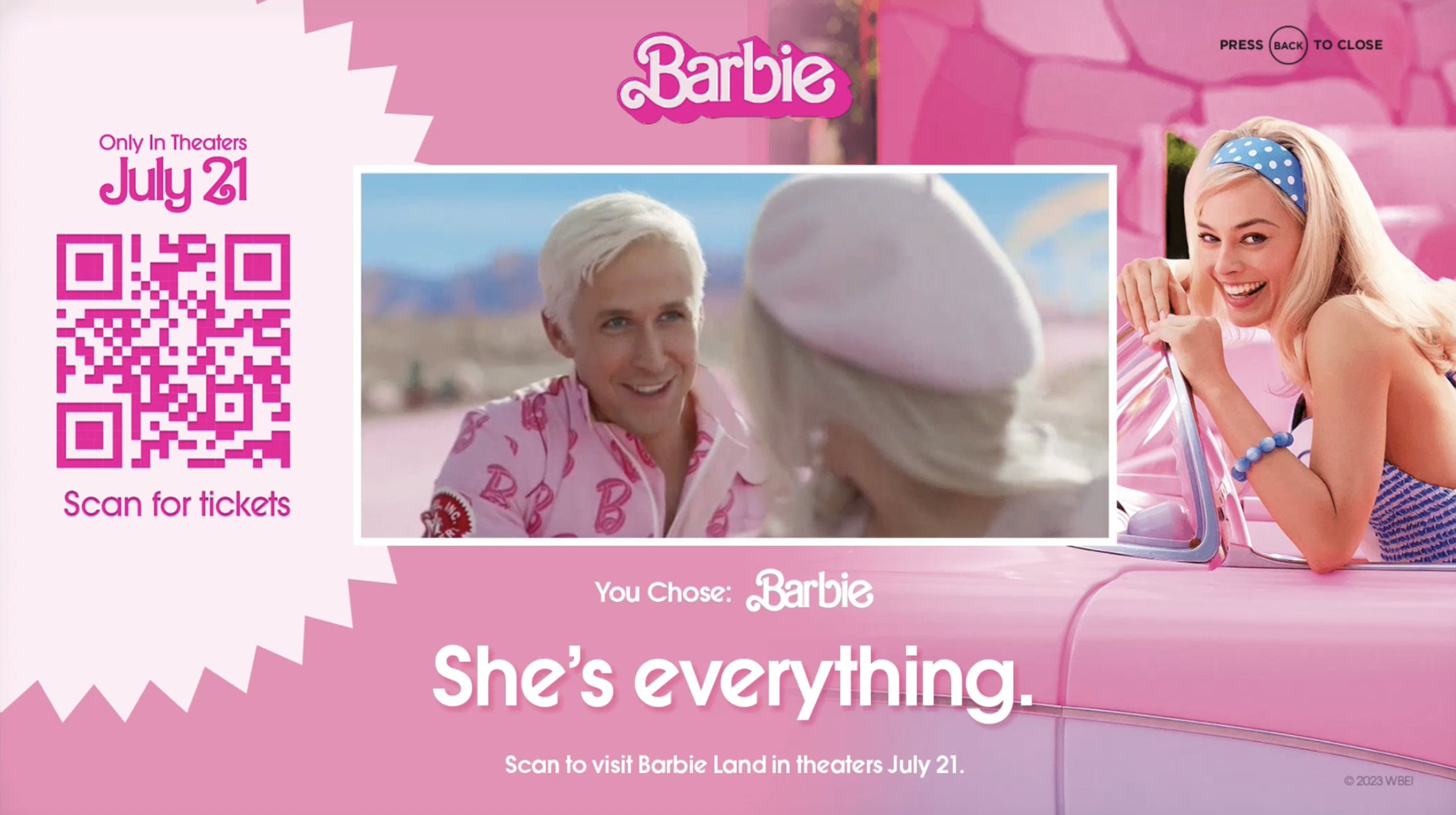 Whether it's fashion crossovers with Forever 21 and PacSun, movie-themed X-Box controllers, or the real-life Malibu DreamHouse on Airbnb, Barbie has been hard to miss in recent months. With innovative marketing campaigns that expand beyond traditional advertising, Barbie is baking its way back into culture to become part of the 2023 Summer zeitgeist.
Now as the theatrical opening approaches, some of that cultural awareness marketing is transforming into immersive, actionable advertising that drives ticket sales with VIZIO's unique audience.
This week, from the moment millions of VIZIO owners turn on their TV, they will be greeted with an unmissable Barbie-themed promotional experience.
Additionally, the campaign will integrate interactive 30-second commercials within VIZIO's free ad-supported streaming service WatchFree+, which is home to hundreds of free channels and more than 6,000 on-demand movies and shows. The entire campaign is designed to empower the theatrical community with a more engaging viewing experience for millions of VIZIO households.
VIZIO's interactive capabilities are powered by its partnership with BrightLine, which also powers dynamic and shoppable advertising on Hulu, Peacock, Discovery+, and many others. In addition to QR-code, click-to-shop creative, VIZIO has also launched interactive trivia and dynamic messaging campaigns for a variety of Fortune 100 advertisers, which exceed benchmarks for brand metrics across full-funnel KPIs.
"Barbie has been a big topic of conversation within digital culture due to a variety of unique marketing efforts, and now we're bringing that same innovation to TV," said Adam Bergman, Group Vice President of Advertising and Data Sales at VIZIO. "There is a big crossover between VIZIO owners and the Barbie fandom, and we're excited to bring those audiences more engaging experiences for one of the most anticipated theatrical releases of the summer."
Interested in seeing how VIZIO can help you leverage these capabilities? Click the "Get in touch" button below to connect with a VIZIO representative.