VIZIO Ads makes it easy for advertisers to reach customers with fine-tuned granularity, even down to specific regional or geographic areas. With CTV Video and customized solutions like Household Connect, advertisers can now cut through heavy volume of content and streaming choices and more effectively reach their target audiences.
We recently conducted a case study with a utility company to show how partnering with VIZIO Ads creates a memorable experience that leaves a lasting impression for viewers, especially when targeting a very specific audience.
The utility company came to VIZIO with one primary goal — to raise awareness specifically among homeowners and residents who live in their service area. By leveraging CTV Video and Household Connect, the utility company was able to engage directly with its customers with context that stands out and is contextually aligned.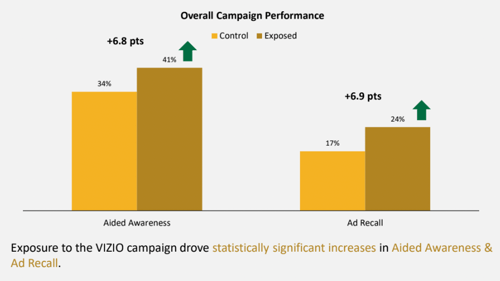 Exposure to the media helped drive both upper and lower funnel metrics, including a 6.8pt increase in Aided Awareness after viewing the campaign. We ran analysis across key variables including geographic area, media type and frequency, and customer demographics. Results from the research helped the utility company understand where its campaign excelled, and how VIZIO Ads platform contributed to its success.
As advertisers look to CTV more frequently to provide new and innovative ways to reach their customers, VIZIO offers the solutions to help meet and exceed key campaign goals and business objectives.
To read more about how this utility company succeeded in building awareness by incorporating CTV Video and VIZIO Household Connect in their campaign, download the full case study using the form below.
This case study and its results are not guarantees of the future performance of VIZIO Ads and are subject to factors which are beyond its control and may cause actual results to differ from expectations.