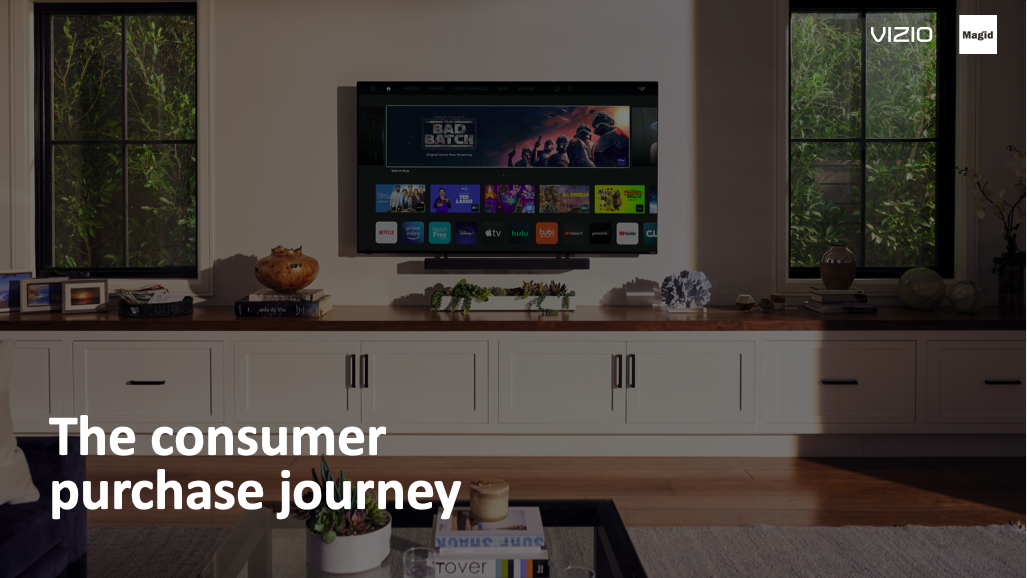 VIZIO commissioned Magid, a leading research-based strategic consulting firm, to understand how streaming device choices impact streaming entertainment consumption, and what that means for programmers and advertisers alike. The company conducted a quantitative online survey of over 1,600 U.S. streaming TV users aged 18 - 64, supported by a 2-day online community qualitative study of both smart TV and peripheral owners.
The following is the first of several insights gained as a result of this research, with more to be released in the weeks ahead. To request a custom briefing about these and other findings, select the "GET IN TOUCH" button at the top or bottom of your screen.
Viewers are accustomed to plugging something into their TV sets to access programming. That used to be a cable cord, or a DVD cable. More recently, in the shift to streaming entertainment, that meant plugging in some kind of peripheral device to connect the TV to the Internet to access their favorite apps.
But new research from Magid and Vizio suggests that practice is losing steam, as the latest generation of smart TVs allow viewers to connect directly with their programming of choice better than ever, reducing the need for any third-party device.
Which begs the question, if smart TVs can do everything a peripheral can do, and more, what need is there for them going forward? Streaming looks very different from where it was just a year ago. Consumers are quickly expecting more from the experience, and the TV is where that consumption is happening.
Peripherals dominated the early transition to streaming entertainment because they cheaply and effectively satisfied viewers' basic need to access video quickly and easily with their desired apps and programming.
Although these devices still retain some price and portability benefits, consumer research conducted by Magid earlier this year with U.S. owners of both smart TVs and peripheral devices shows that viewers prefer smart TVs for nearly everything else.
In a head-to-head matchup on features, smart TVs beat peripherals in every category:
Reliability: 36% vs 17%
Remote: 35 vs 24%
Picture: 32% vs 17%
Inputs: 34% vs 15%
Magid's research found that peripheral devices are considered glitchy, offer a less streamlined viewing experience (such as requiring multiple remotes, need to change inputs, etc.), are more complicated to set up initially, and require more cables which results in a more cluttered look.
Magid's research also shows smart TVs indexing highest for intended future increase in viewing time. More than 39% of smart TV owners say they expect to watch more streaming entertainment in the future, versus only 33% of peripheral owners and 29% of game console owners.
The peripheral space is highly fragmented, with different devices offering different capabilities and access to different kinds of content and apps. How viewers migrate from those devices to exclusively smart TV will depend largely on which they're using today.
Consolidating all this streaming activity into one device—the smart TV—will take time. Habits are habits, and users of each of these devices will migrate to smart TVs at their own pace. But the arc of attrition will eventually tilt fully in favor of the smart TV replacing older sets.
Offering consumers a wide variety of smart TV models, across a range of price points, can help accelerate this transformation. But equally important are for smart TVs to be fully integrated with streaming service providers in a way that prioritizes the customer experience.
The typical TV replacement cycle is 7-8 years. That decreased to about six years during the transition to flat-screen TVs. The combination of smart features, better picture/sound quality, and falling prices should lower it further. Low-cost peripherals offering easy and cheap access to streaming programming may have delayed replacement actions for many. But this is just a speed bump only delaying the inevitable rather than supplanting it
Magid research shows that when viewers experience the capabilities of smart TVs released in the last three years, and in the last year in particular, they more rapidly migrate away from peripherals (although they may still use peripheral with older, non-smart TVs).
For the final nail in the coffin, we must look to the future.
Today's smart TVs offer more than just all the requirements shared by peripherals. They also add several features that peripherals don't, such as advanced displays and sound quality.
But while access to programming and quality of image/sound represents the battleground between smart TV and peripherals today, the future tilts even more strongly in favor of smart TVs.
According to the Magid study, the top features of interest for future TV purchases skew in the direction of utilities and services, with common programming features becoming table stakes.
This includes:
Weather and Traffic (52%)
Security Viewing (47%)
Menus/Food Ordering (47%)
eCommerce (45%)
Web Cam Access (44%)
Sports Betting (37%)
As smart TVs become the center of the connected home, with access to features beyond entertainment, the gap between TV and peripheral will only widen.
In other words, peripherals are a good one-trick pony for cheap and easy access to streaming apps today. But they don't deliver on the more sophisticated solutions coming to the home that smart TVs will enable tomorrow.
--
Peripherals were a short-term, stop-gap solution to a short-term problem. Smart TVs have not only addressed the interface and accessibility issues that drove viewers to peripherals in the past, but they've added additional features and access to content in ways that peripherals simply can't compete with.
The research suggests an inevitable advance of smart TVs passing peripherals over time. While this progression will be gradual, and the technology must keep up with the ever-changing ecosystem throughout, VIZIO is well-positioned to capitalize on this accelerating trend.
Our broad line of TV models offers consumers the ultimate variety of choices at affordable prices while providing the most integrated experience merging the hardware, the software, and the content services consumers seek.
This integrated approach is essential for smart TVs to eclipse branded peripherals. As more viewers experience today's native smart TV features, the faster they migrate to using the smart TV exclusively over other options.
For more information about this analysis or additional insights from the VIZIO-Magid research, use the link below to schedule a custom briefing.